**Note: For my returning visitors to this page. I add new links at the bottom of my list. Click 'Page Two' link below. Thank you for visiting again. :-)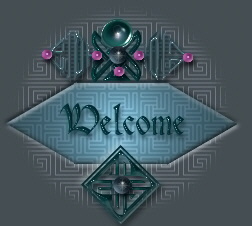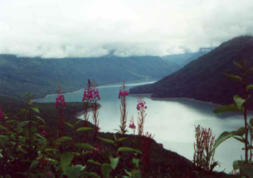 ~click to see large view~
I have lived in Alaska for over 18 years, and it is an awesome experience. The first things you notice when you come here are the rugged snow-capped mountains and the fresh smelling air. The clear, blue glaciers, the abundant wildflowers, the song birds....it's like you just stepped into heaven. So much of Alaska is still untouched, remote. It is indeed the last frontier.


Aside from its splendid natural beauty, are the PEOPLE. Ahhhh, the people of Alaska are some of the most friendly you will ever meet. We Alaskans have a lot of State Pride, and the majority of us are happy to be here, or we would have left before the first snowflakes hit the ground. Because living in Alaska takes a certain amount of pioneer spirit.


The winters are the endurance test for a good many people. They can be bitter cold, short daylight hours, and even cases of 'cabin fever' can set in. But, if you love the season, as I do, it is a winter wonderland. The snow turns our city of Anchorage into a magical place ....and the sun comes out almost every winter day, bathing our mountains in glorious colors of alpenglow. And it isn't unusual to see Moose casually walking along in our city!


Ask any Alaskan about our wonderful summers. We have 19 hours of sunlight during the summer at its peak...and it seems as though no one sleeps in the summer....lol. People play baseball and have barbeques at midnight...it is still daylight then. And even when the sun does set in the wee hours, it comes right back up, so that our 'night' is never dark in the summer, but just beautiful shades of sunset, or sunrise. Alaska is breathtaking in its beauty. We are blessed with streams, rivers, lakes, and two oceans - full of trout, halibut, salmon, crab, shrimp....it is a Seafood lover's paradise... ;)


I cannot begin to describe Alaska adequately. So I have accumulated several sites to help me with that. If you ever have the opportunity to visit Alaska....grab it! You will never be sorry. Then your only problem after you leave will be trying to forget how wonderful it was. Don't try...Alaska haunts anyone who has experienced her....I KNOW... ;-)
~Softlady~


I Am A Proud Member Of:



Phenomenal Women Of The Web
Graphics and Music delightfully
enjoyed and used with Sincere
Gratitude to the following:



Bill Davidson, Photographer
All these lovely Alaskan photos are used with deep gratitude to my friend, Bill. Visit his site and read the stories behind the photos! Thanks for sharing, Bill!

"ZZEndless" by Van-Lam Nguyen
courtesy of:
The Very Best Midi